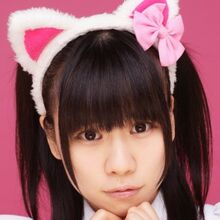 Sakuragawa Himeko
(桜川ひめこ) is a Japanese pop singer. She is a former first generation member of
AKIHABARA Backstage pass
, having graduated in April 2012.
Name: Sakuragawa Himeko (桜川ひめこ)
Nicknames: Hime (ひめ), Himeme (ひめめ)
Birthdate: March 21, 1986
Birthplace: Tokyo, Japan
Blood type: B
Height: 155cm
Shoe size: 24cm
Hobbies: Games, sweets decoration
Special Skills: Song making, soft tennis
Discography
Edit
[2005.8.3] Akiba ni ikunon! (アキバに行くのん!)
[2007.7.20] Meron shichatte☆ (めろんしちゃって☆)
[2008.5.3] Unmei no rinku (運命のリンク)
[2008.8.27] My Way nakimi (My Way なキミ)
[2008.12.10] Love★Pink (らぶ★ぴんく)
[2006.4.14] Oniichan♪ Katte! Katte! Katte~!! (お兄ちゃん♪買って!買って!買って〜!!)
[2005] Oniichan...Dai Chu ki (お兄ちゃん…大Chuき☆)
[2006] AKI.BA.NA.NO.NIN ~Akibananonin~ (AKI.BA.NA.NO.NIN〜アキバナノニン〜)
[2006] Oshaberi Figure (おしゃべりフィギュア)
[2008] Bideo hime kakumei akiba senseshon (ビデオひめ革命 あきばせんせーしょん)
[2008] Himeme no shabon imoto kara no messeji (ひめめのしゃぼん 妹からのメッセージ)
[2008.9.29] Wink03 Sakuragawa Himeko meromero★himeme (Wink03 桜川ひめこ めろめろ★ひめめ)
CDs Featured In
Edit
[2006] OniichanCD (おにいちゃんCD)
[2006.12.30] OshikariCD (おしかりCD)
[2007.7.4] Akiba no minna no uta (アキバのみんなのうた)
[2008.2.14] OneechanCD (おねえちゃんCD)
[2008.2.14] OniichanCD ADVANCE (おにいちゃんCD ADVANCE)
[2008.2.14] Akiba no sui ~ to ☆ parfait (アキバのすい~と☆ぱるふぇ)
[2008.7.24] ChuCD (チューCD)
[2008.8.6] Moe Reggae (萌レゲェ)
[2009.4.29] RailwayCD (鉄道CD)
Books Featured In
Edit
[2006.9.20] Akiba Biyori (秋葉日和)
[2008.4.25] Omaera ni mo deki ru! Netto de hayatte iru ryori matome hon (お前らにも出来ル! ネットで流行っている料理まとめ本)
[2008.8.21] Meido kissa de aimasho (メイド喫茶で会いましょう)
[2011.4.11] Riaru-kei aidoru zukan perfect memory (リアル系アイドル図鑑 パーフェクトメモワール)
She put most of her solo career on hold while she was a member of AKIHABARA Backstage pass.
She has also appeared in commercials and television.
External Links
Edit
Community content is available under
CC-BY-SA
unless otherwise noted.